Hi, readers! Today I have a post for Rich in Variety's blog tour for The Melody of You and Me by M. Hollis. I have been following the author, Maria, for a while now on Twitter and when I saw that you could sign up to be a part of this blog tour, I just knew I had to do it. When I first read the synopsis for The Melody of You and Me I thought this book sounded great and now that I have read it, I can tell you this. I was wrong, it was better than great, it was amazing! You can read my review below and also see a playlist for this book.
About the Book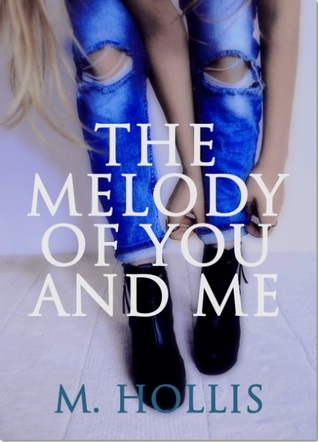 Author: M. Hollis
Publisher: Self-Published
Publication Date: September 29, 2016
Genre(s): New Adult, Contemporary, Romance, LGBT+
Page Number: 82
After dropping out of university and breaking up with her girlfriend of three years, Chris Morrison's life is now a mind-numbing mess. She doubts that working at the small neighborhood bookstore is going to change that. The rest of her time is spent mostly playing guitar and ignoring the many messages her mother keeps sending her about going back to college.
But one day, an adorable and charming new bookseller waltzes her way into Chris's life. Josie Navarro is sweet, flirty, and she always has a new book in her hands. The two girls start a fast friendship that, for Chris, holds the promise of something more. But is she reading too much into this or is it possible that Josie feels the same way?
I can't imagine a universe where The Melody of You and Me doesn't get all the 5 planets (or as mundane people call it, stars) in the world, just for being absolutely fantastic. This story blew me away, in the best way possible. It's funny, it's cute and it explores so many topics that so many people just like to ignore instead of face head-on. The Melody of You and Me is about two girls, Chris and Josie, who fall in love over time spent working together in a bookstore. Their story will make your heart swell with love and will have you flailing in your bed, making weird facial expressions, from fangirling over how amazingly cute it is. Don't doubt this for a single second, that's just the way it is.
"Realizing that she is being watched, her eyes rise to meet Chris's stare. The way the sun coming from the windows reflects on her face, makes her brown eyes shine even brighter, with golden flicks around her iris.

She is stunning."
As if the love story isn't enough to make me fall in love with this book, there's also all the fandom references. Don't even get me started on the fact that these two girls just randomly mention all of my favorite books, and all the books I want to read. I loved it so much, it made me want to scream a little bit.
"Chris disagree to a great extent; she likes working with the books. Sometimes the right one can change somebody's life, and she loves being a part of that journey."
However, if we move on to the more serious topics this book tackles then you can really see how important and impactful The Melody of You and Me really is. The truth is that this book really hit me hard. It had me crying because the main character Chris' story is so damn similar to mine, it's almost surreal. Chris studied Computer Science at University for two years, for everyone else but herself, until she finally dropped out.
If you're young and insecure about your life choices, your career, and your dreams then this book will speak to you on a spiritual level. The truth is that society forces us to choose our entire lives when we're so young, without always giving us the right tools and advice to make the right choice. This all while also pushing the idea that the safer option is better than our one true passion. Chris' story makes me feel less alone, she makes me feel like it is okay to just take a step back and figure out where I want to be and where I want to go. I want everyone to read this story and experience that liberation too. It's okay to be in your 20s and be absolutely unsure about where your life is headed.
"Why do they never let young people stop to think? Why is it unacceptable to take a little time to figure out what she wants to do for the rest of her life?"
I feel like there are so many amazing things to be said about The Melody of You and Me, I could go on all night, and I will go on about this book until the end of time, to be honest. This book is diverse and inclusive, the majority of characters in The Melody of You and Me are in the LGBT community and the love interest is Filipino. Another thing we see is that Chris and Josie have different sexualities and that the author also raises the topic of how someone's experiences have nothing to with their sexuality. All of that was handled really well in my eyes.
I'm so incredibly thankful The Melody of You and Me exists and that I got to read it. I love how it shows two girls of two different, but equally valid sexualities, fall in love and I love how it shows us that we can be unsure about our lives and that dreams can take time, but no matter what we should always do what feels right in our hearts. This cute and short book about a beautiful interracial couple is one you don't want to miss out on, get it on your radar and read it when it comes out. I have no doubt you'll love it as much I do.
Rating: 
Pre-order the book here.
Since I was feeling very inspired by The Melody of You and Me you can check out an edit I made to celebrate it here.
Music Playlist
I also have a music playlist for the book, that was created by the author, to share with you. I have listened to it and it's so good. It fits the book perfectly and makes me feel all mushy instead. I also made an edit for the playlist and linked all of the songs below.
To make things a little easier for you I created a playlist on youtube. That way you can listen to all the songs in order, without having to click on every link. You can listen to the playlist here.
About the Author
M. Hollis could never decide what to do with her life. From the time she was a child, she has changed her ideas for a career hundreds of times. After writing in hidden notebooks during classes and daydreaming during every spare moment of her day, she decided to fully dedicate herself to her stories. When she isn't scrolling around her social media accounts or reading lots of femslash fanfiction, you'll find her crying about female characters and baking cookies.